Overview
On this page, you will find instances of Brian's work completed during his studies at Purdue University in the Learning Design and Technology Online MSEd program. As part of program studies, Brian completed a Passport Portfolio. In the Portfolio, a comprehensive array of instructional design competencies and skills are demonstrated through digital badges. These range from planning and analysis to evaluation and implementation. Artifacts, in the form of coursework, were submitted as part of badge requirements. 
Each artifact is aligned with the ISTE Standards, a road map and framework for instructional innovation, solutions, and engagement that was set forth by the International Society for Technology in Education.
Artifact 1: Designing a Leadership Development Program
For Brian's practicum, he conducted work for a human organizational development consulting firm. The main deliverable was a framework for a planned leadership development training program. Brian distilled research into a concise framework of leadership development program theories, goal competencies, and tools. From this framework, Brian put together a learner persona data collection plan, program theory, and initial curriculum draft, all of which were intended to inform further work. The biggest challenge throughout the project was the approach to be taken by the leadership development program in engaging an identified target audience. By the end of Brian's practicum, he had put together a plan for engaging with stakeholders for more data to inform the front-end analysis, due to the ambitious goals of the program (undefined target audience). 
The artifact, a Design Document, is aligned with ISTE Educator Standards section 2.2 (Leader): "Educators seek out opportunities for leadership to support student empowerment and success and to improve teaching and learning," (ISTE, 2017).
With this Design Document, Brian was able to communicate the challenges of designing a leadership development program with an undefined audience in mind, and propose a stakeholder engagement plan.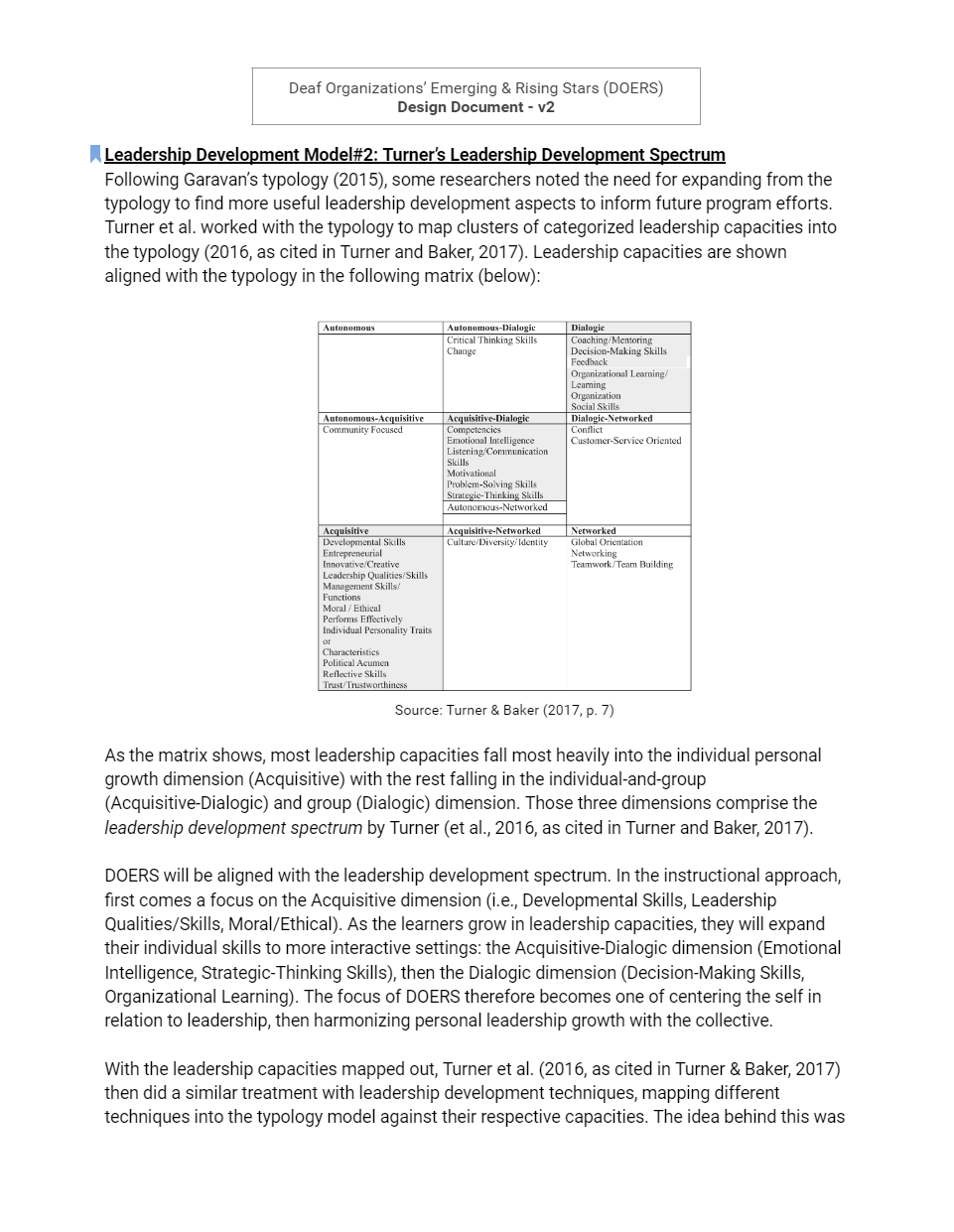 Artifact 2: Designing and Developing a Job Training Module
For a course on learning systems design, Brian created a job onboarding learning module from the ground up, intended for the higher education context at a school serving deaf and disabled learners. This project revolved around a Design Document through which Brian conducted a front-end analysis and identified performance objectives and instructional strategies, working from the Dick and Carey instructional design model. Following the module design, Brian developed all content and built the module in Articulate Storyline 360. To wrap up the project, he conducted testing with a small pool of user testers. 
The artifacts, a Design Document and an Articulate Storyline 360 module, are aligned with ISTE Educator Standards Section 2.5 (Designer): "Educators design authentic, learner-driven activities and environments that recognize and accommodate learner variability," (ISTE, 2017).
These artifacts are evidence of Brian working with digital tools to create a learning experience that facilitated engaging and independent learning among a target audience who have unique needs as disabled and/or deaf/hard-of-hearing learners.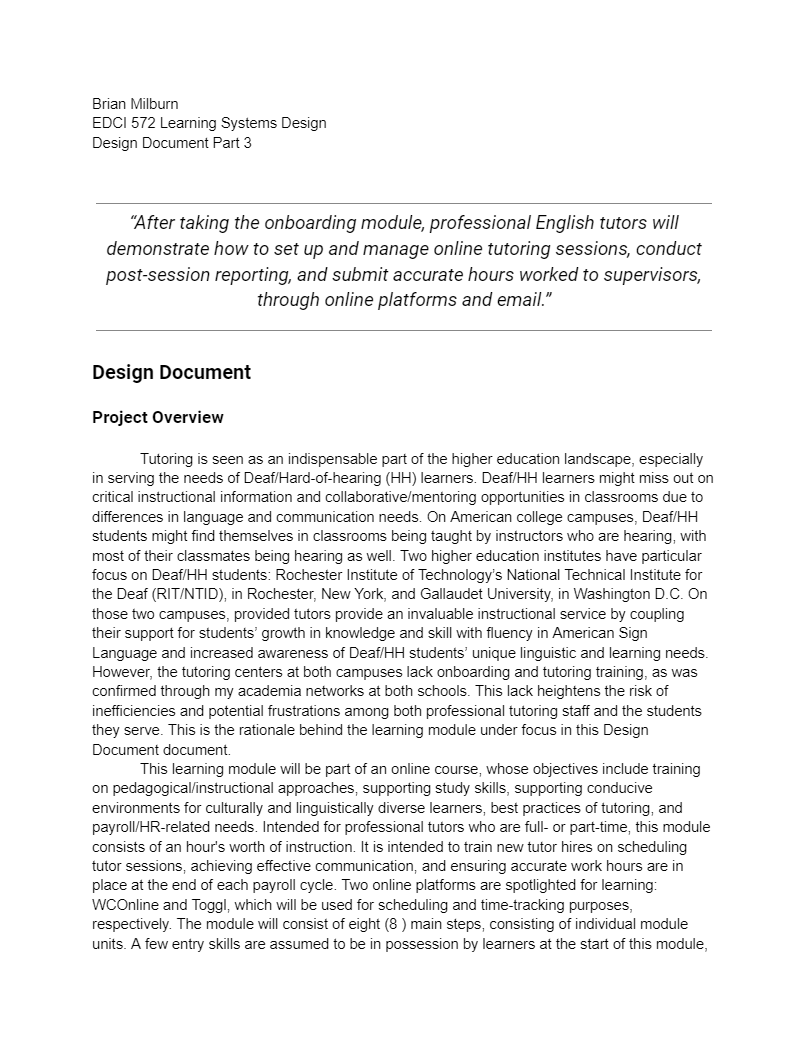 Artifact 3: Prototyping Web-based Learning
One of Brian's courses consisted of a deep dive into instructional design models and theories. As part of his final project for the course, he created a wireframe in Adobe XD depicting the prototype of a web-based learning experience on the topic of Google Analytics. Robert Gagne's Theory of Instruction underpinned the learning experience, acting as a framework of communication between the instructor (Brian) and the learner. The design of the learning was intended to expedite the web development process for clients, with the topic being an introduction to data collection (Google Analytics). 
The artifact, a wireframe document, are aligned with ISTE Educator Standards 2.6 (Facilitator): "Educators facilitate learning with technology to support student achievement of the ISTE Standards for Students," (ISTE, 2017).
The artifact evinces Brian modeling creativity to communicate knowledge to the target learner audience, through accessible and engaging web design centered around instructional videos.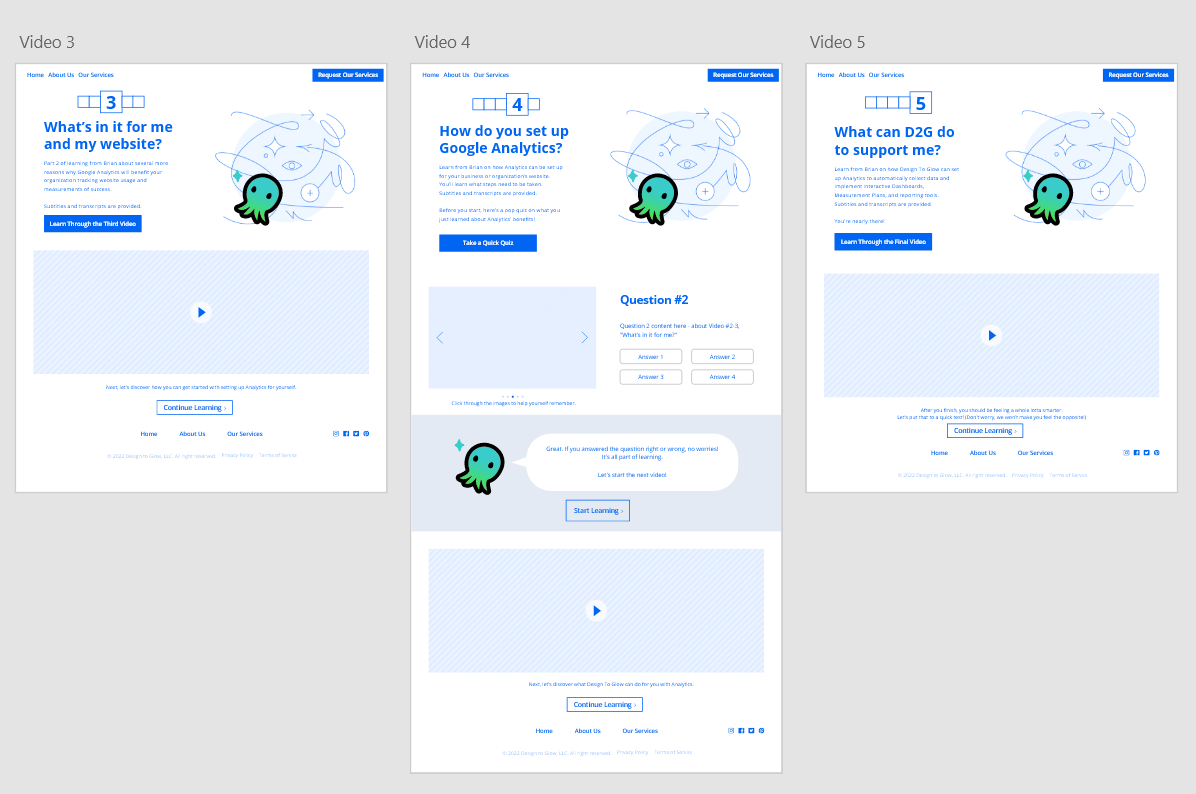 Artifact 4: Designing and Developing Web-based Learning
Brian designed and developed a web-based learning module that provides 15-20 minutes of instructional content that covers requirements of web development projects and elicits responses to Discovery Questions. Artifact components included a Design Document, wireframe document, survey copies, and a scoring rubric and guide. Design was done with Keller's ARCS model in mind: motivating and engaging the audience. The module was intended to support information-collecting from clients while simultaneously educating them on the web development process (from brainstorming to website delivery).
The artifacts are aligned with ISTE Educator Standards 2.7 (Analyst): "Educators understand and use data to drive their instruction and support students in achieving their learning goals," (ISTE, 2017).
The module collected information and feedback from learners that would inform incremental module changes, and supported reflection in learners.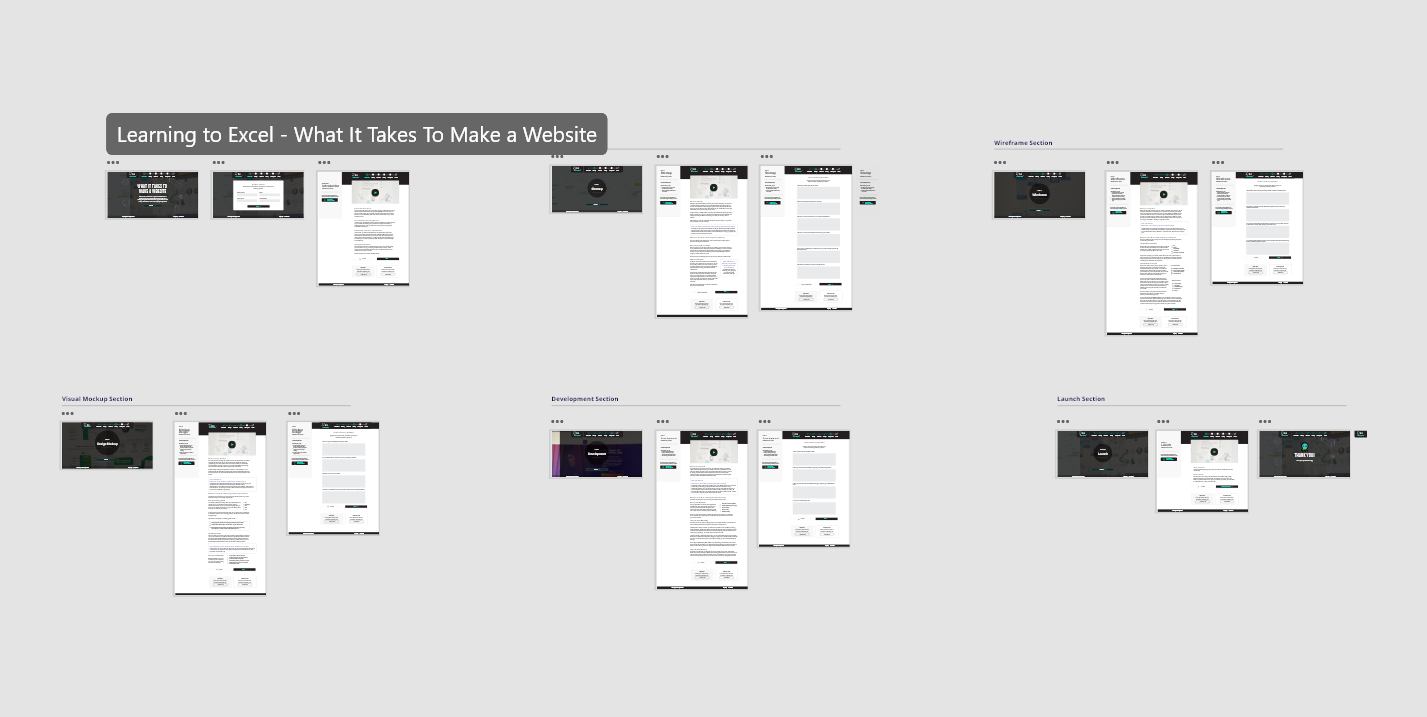 Artifact 5: Designing a Family-friendly Aquarium Kiosk
As part of an assignment in an advanced learning systems course, Brian put together a design mockup of an aquarium kiosk for a fictional client, a large aquarium in Australia. The design was done in Adobe XD. Accessibility, simplicity, and family-friendliness were concepts driving the kiosk design process. For this project, Brian searched on the latest pedagogical and design studies on museum kiosk design and worked from the findings.
The artifact is aligned with ISTE Educator Standards 2.1, "Educators continually improve their practice by learning from and with others and exploring proven and promising practices that leverage technology to improve student learning," (ISTE, 2017).
Brian's findings in the learning sciences informed his final kiosk design.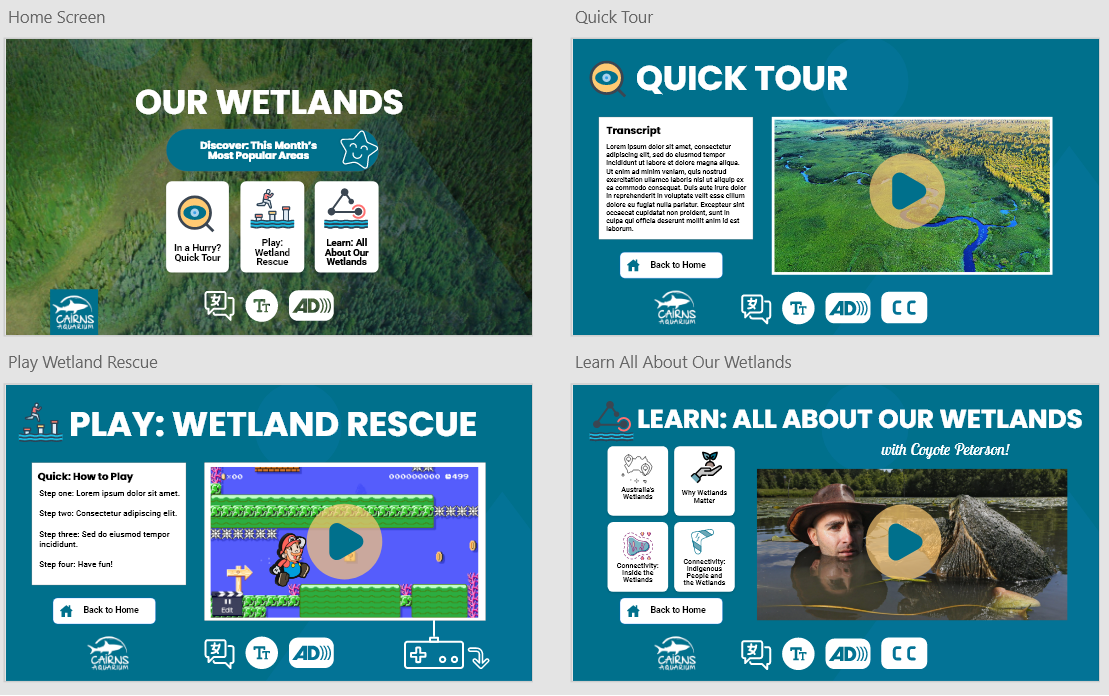 References
International Society for Technology in Education. (n.d.). ISTE Standards: Educators. Retrieved December 1, 2022, from https://www.iste.org/standards/iste-standards-for-teachers