Overview
This was a project for the Family Tree Clinic, in partnership with Bus Door Films, a video production company. The goal was to create 5 videos on sex education for parents of deaf children which featured illustrated characters and a narrator that delivered content in American Sign Language (ASL).
Audience: Parents of deaf children who need support on facilitating conversations on sex education.
Responsibilities: Branding, Character Development, Storyboarding, Illustration
Tools Used: Adobe Illustrator, Adobe Photoshop, Huion Kamvas

Problem and Solution
Family Tree Clinic (FTC), an organization that provides sexual health services and education in the state of Minnesota, and Bus Door Films (BDF) needed branding, storyboarding, and illustration support to convert standards-aligned sex education content into an engaging educational video where live-action narration and an animated illustrated character would be shown. With the videos focused on relationships, caring, and consent, they would give tools to parents and caregivers to talk with their deaf children about their developing bodies.
Sheena would be responsible for developing branding, developing a filming storyboard that depicted a sketched bear character demonstrating a variety of emotions (e.g., uncertainty, confusion), and bringing the bear character and its emotions and poses to illustrated life.
Moodboard and Sketches
Sheena put together a moodboard consisting of various anthropomorphic bear illustrations created by others for a young target audience. With an emphasis on gender neutrality, Sheena also assembled font and color palette options for FTCs review. They made their design decisions in alignment with the target audience and tone (friendly, bright, and fun).
After confirming moodboard concepts with the FTC/BDF team, Sheena sketched out gender-neutral bear character concept options. The team narrowed their selection down to one.

Character Illustration and Branding
Sheena used Photoshop, Illustrator, and her Kamvas tablet to draw, vectorize, and colorize different poses of several bear characters, most of them with accompanying expressive balloons to represent emotions of uncertainty or confusion (e.g., question mark, ellipsis). She provided all illustration assets to BDF to incorporate in video footage through Adobe CC library. A branding guide with selected fonts and colors was also passed along to BDF and FTC.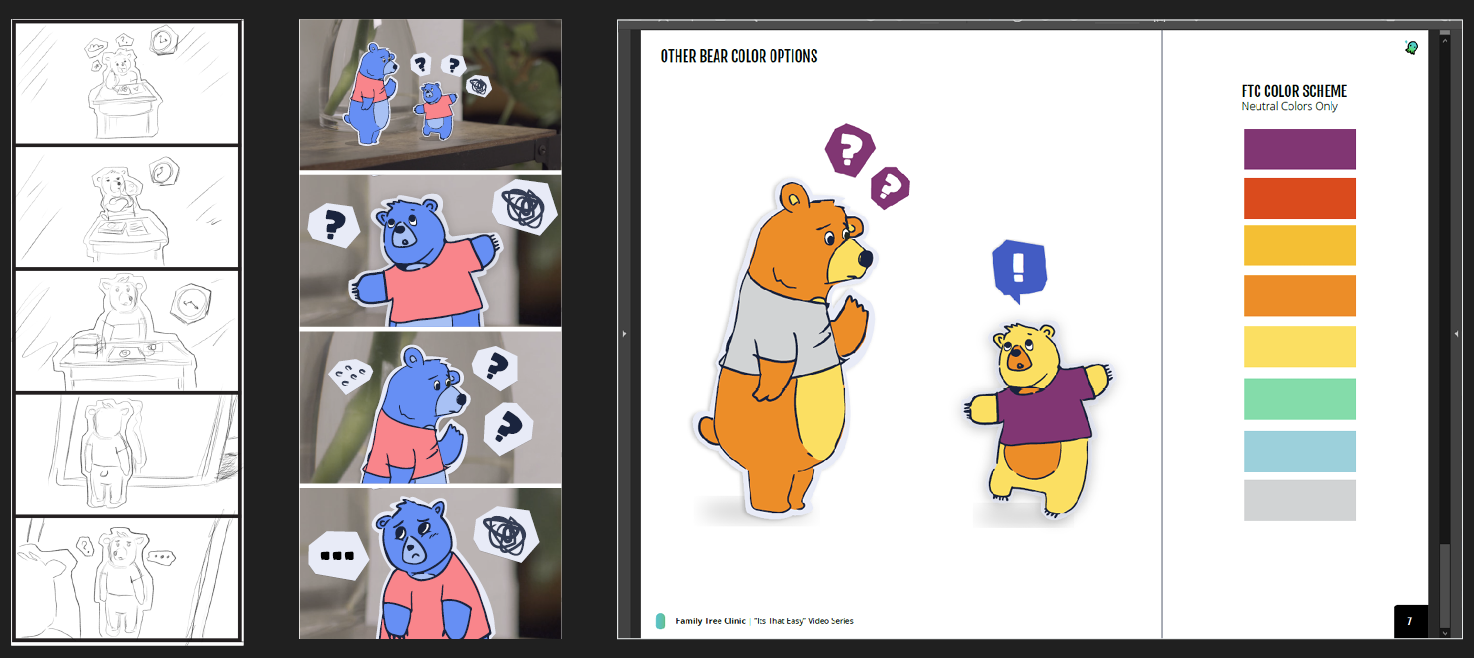 Storyboarding
While working on the character illustrations, Sheena started the storyboarding process. The story content was ready to go, provided by the FTC team. Through panels, Sheena depicted the bear characters situated in the family's home, interacting with set pieces (e.g., a pensive bear sitting on top of a live-shot couch). Bus Door Films used the storyboard to guide their filming process, ensuring integration with the live-action narrator.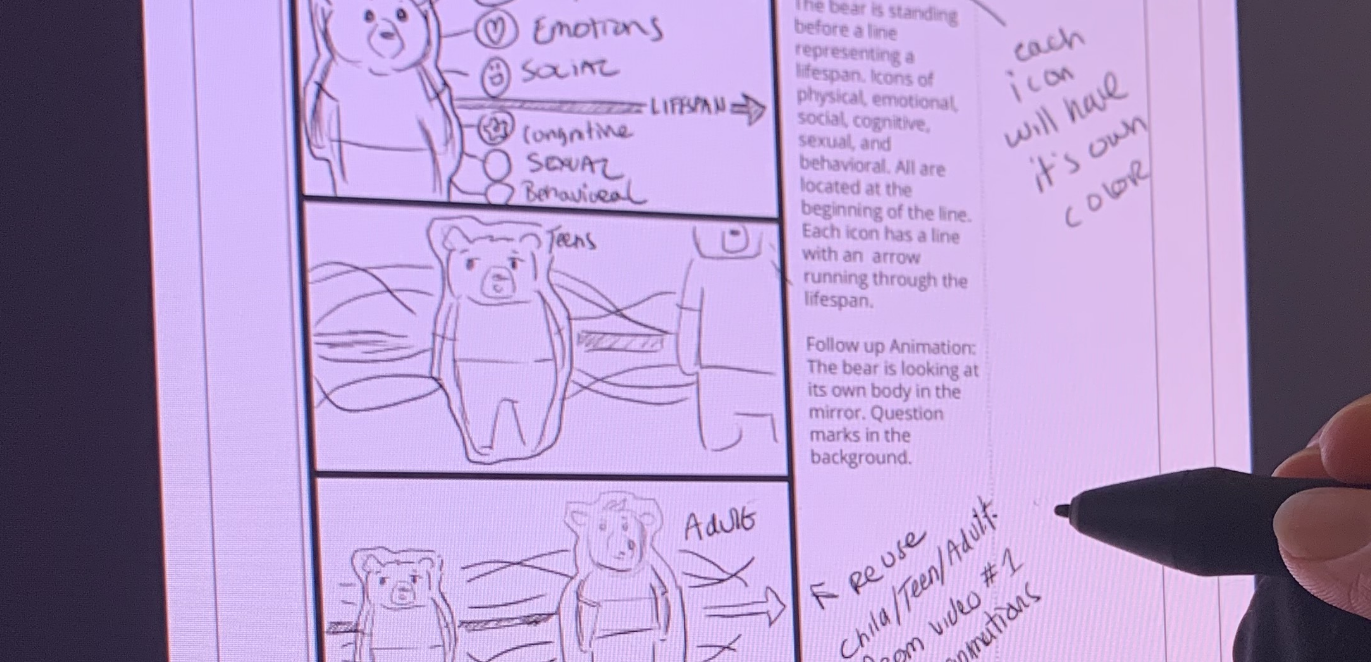 Quality Assurance
Sheena inspected the footage as the production team sent over their work scene-by-scene. Some clips did not capture the desired tone or positioning, so Sheena made a few illustration tweaks to the characters to ensure best fit in terms of interaction, emotions, and colors. She supported Bus Door Films in ensuring appropriate and accurate expressions and interactivity in line with the videos' friendly and fun tone.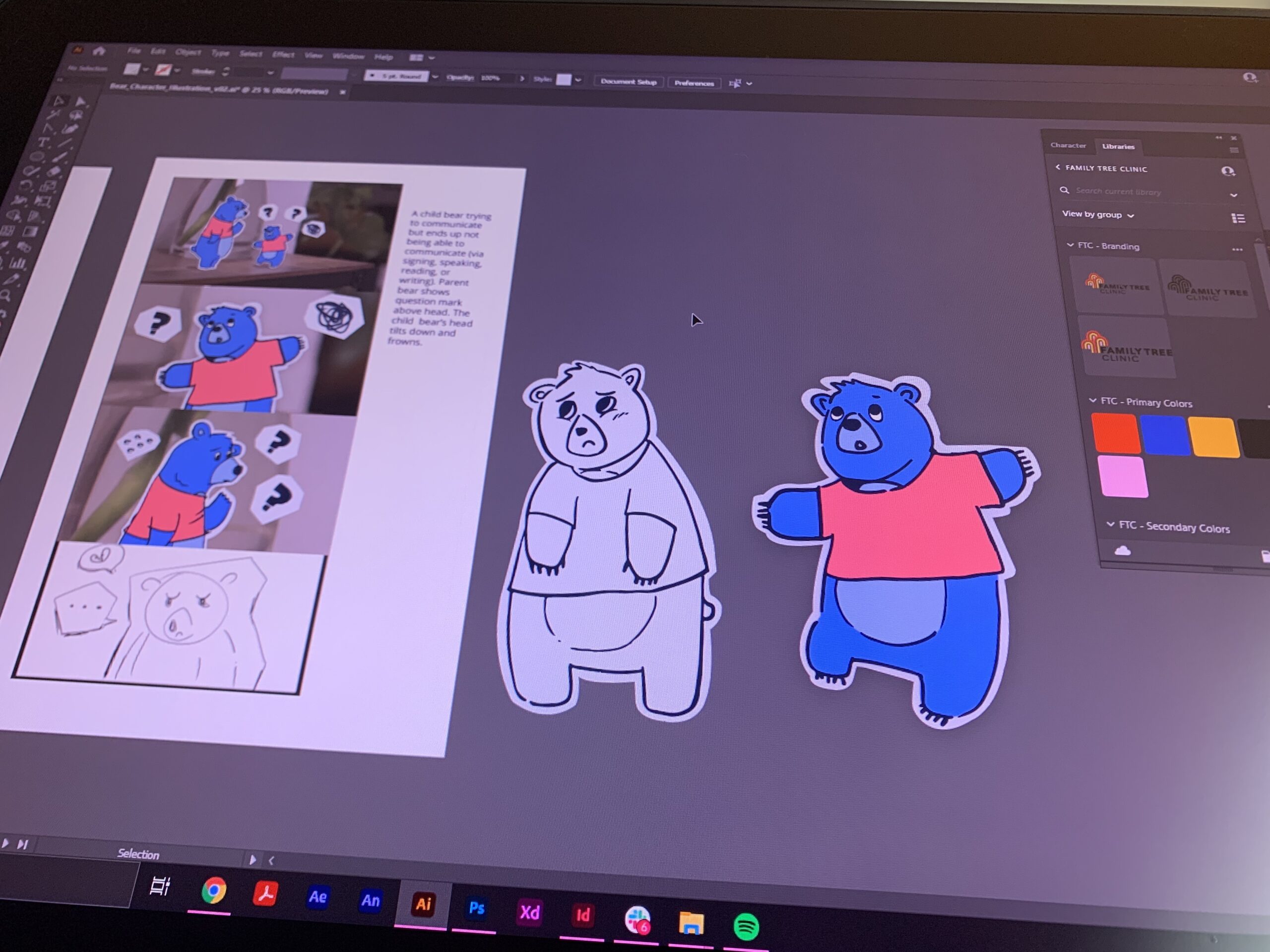 Results and Takeaways
Family Tree Clinic released the videos through their YouTube channel. Through their free Deaf, DeafBlind, and Hard of Hearing Health Education Program, the videos are used to support family sex education workshops throughout the state of Minnesota. With this project, Sheena gained further experience in creating targeted branding and illustrations that support the delivery of challenging educational content.