Overview
This project was an educational video project for Communication Service for the Deaf Inc. (CSD). CSD is a non-profit that contracted with the American Red Cross to deliver the video as part of a larger fire safety initiative for deaf people. The goal was to create a 5-10 minute-long American Sign Language (ASL) educational video on fire safety to be used by hearing parents and their deaf children for home fire safety preparation.
Audience: Parents of deaf children who need support on facilitating conversations on fire safety.
Responsibilities: Creative Direction, Character Development, Storyboarding, Illustration, Branding, Quality Assurance
Tools Used: Adobe Illustrator, Adobe Photoshop, Huion Kamvas
Problem and Solution
Communication Service for the Deaf (CSD) needed creative direction and illustration support to convert storybook content into an innovative educational video where live-action narration and an animated story would be delivered simultaneously. The American Red Cross (ARC) would disseminate the video online with the goal of deaf children gaining access to critical information on fire safety in an entertaining, highly engaging, and language-accessible format.
Sheena was responsible for illustrating the animated story portion and tying the entire video together via creative direction with support from a full production team. The animated story was to be colorful, light, and fun, with its characters (two families with young children who learn about fire safety) depicted through gender-neutral, animal-like illustrated characters.
Moodboard and Sketches
Sheena put together a moodboard consisting of various anthropomorphic animal illustrations created by others for a 3rd-5th grade target audience. The illustrations were selected to represent cartoon/illustration trends for this audience. ARC/CSD and Sheena collaborated to select the color palette of the educational video in alignment with the target audience (friendly, bright, and fun).
The educational video's story revolved around two characters, Pepper (the dog) and Kai (the cat), who were children in two separate families. After confirming initial moodboard concepts with the ARC/CSD team, Sheena sketched out gender-neutral character concept options. The team narrowed it down to one option.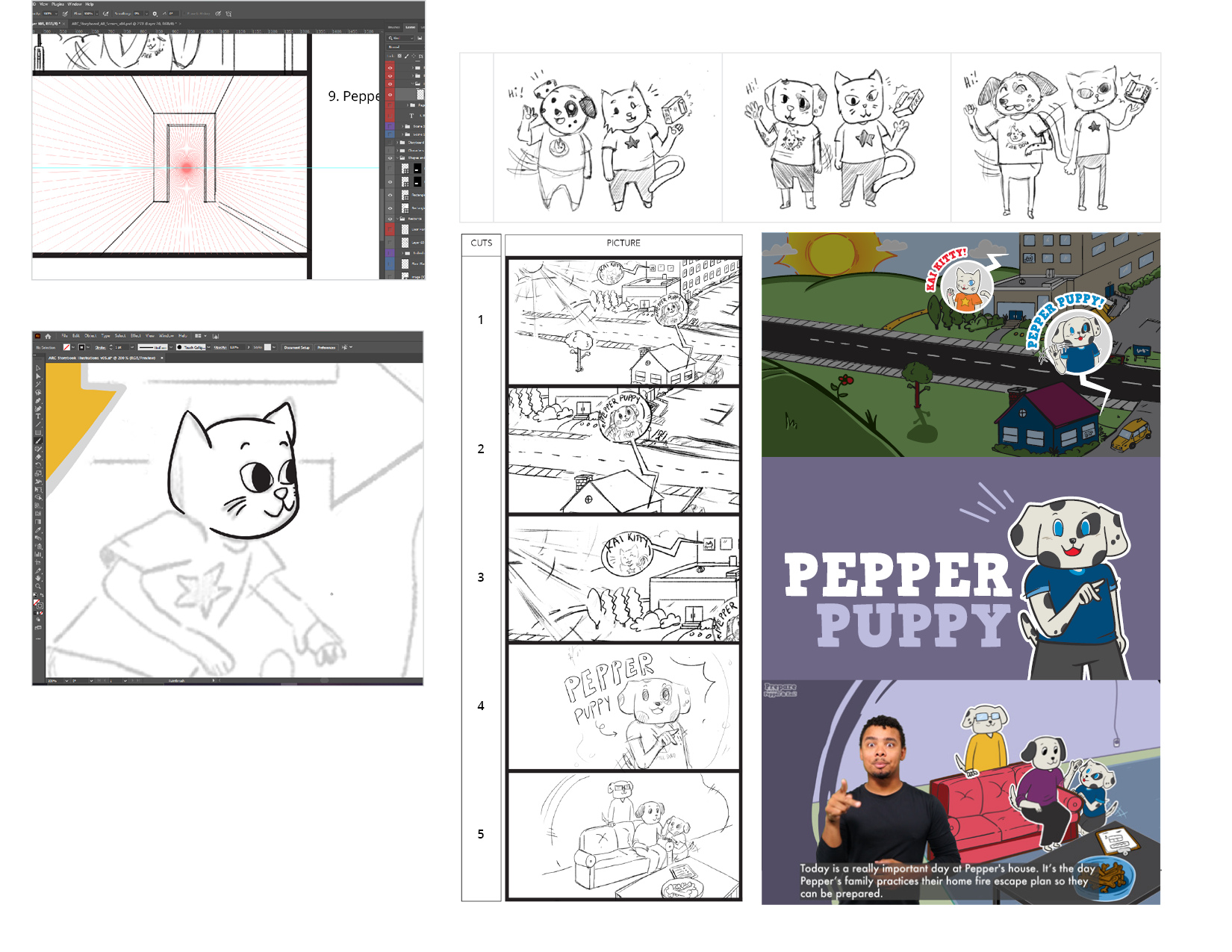 Character Illustration
Sheena vectorized and colorized the selected characters. With the ARC/CSD team's feedback, Sheena arrived at a particular character illustration style that they liked. For the animation team, all body parts for each unique character pose had to be uploaded separately to the shared Adobe CC library – e.g., a character's head left arm, right arm, etc. The library helped make her work convenient since any later adjustments to characters' body parts could be fed automatically into the Adobe library cloud, updating the team's animation files.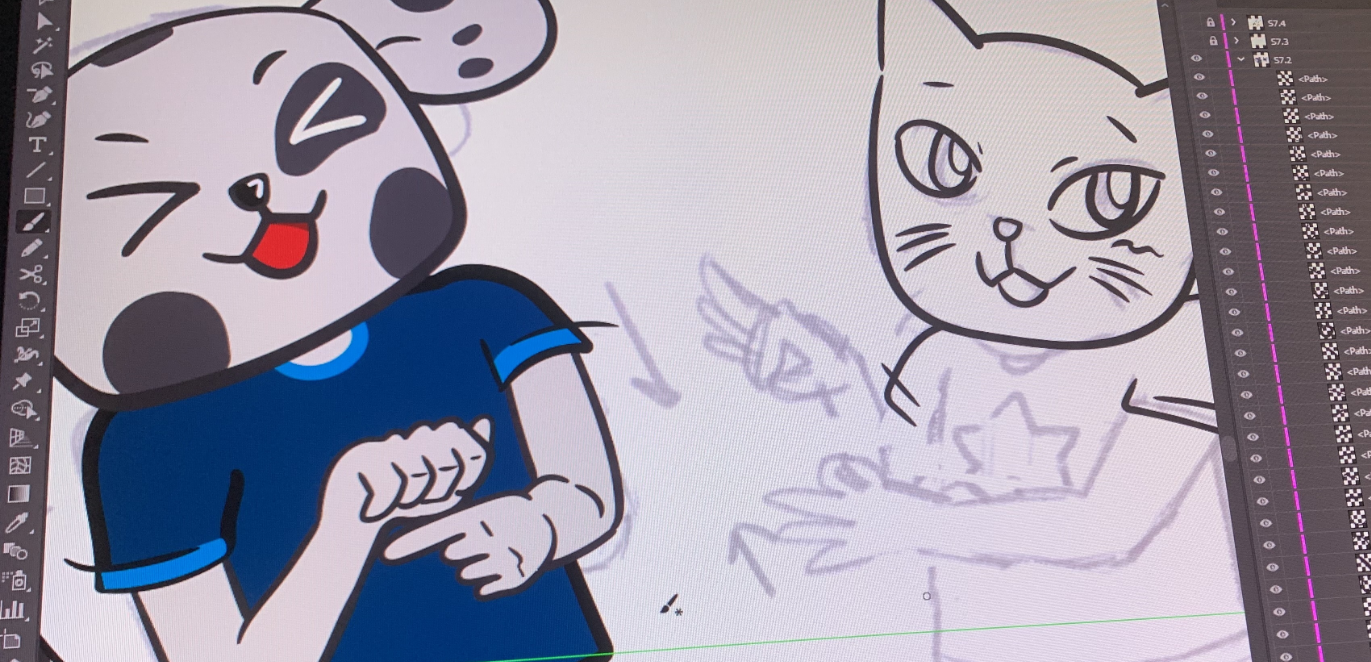 Storyboarding
While working on the character illustrations, Sheena started the storyboarding process. The story content was ready to go from the ARC/CSD team. Using Photoshop and her Kamvas tablet, Sheena sketched all scenes in panels, representing the interiors and exteriors of Pepper and Kai's homes. Sheena highlighted motion components in the panels – e.g., a rising sun that would move across the sky above Pepper's home.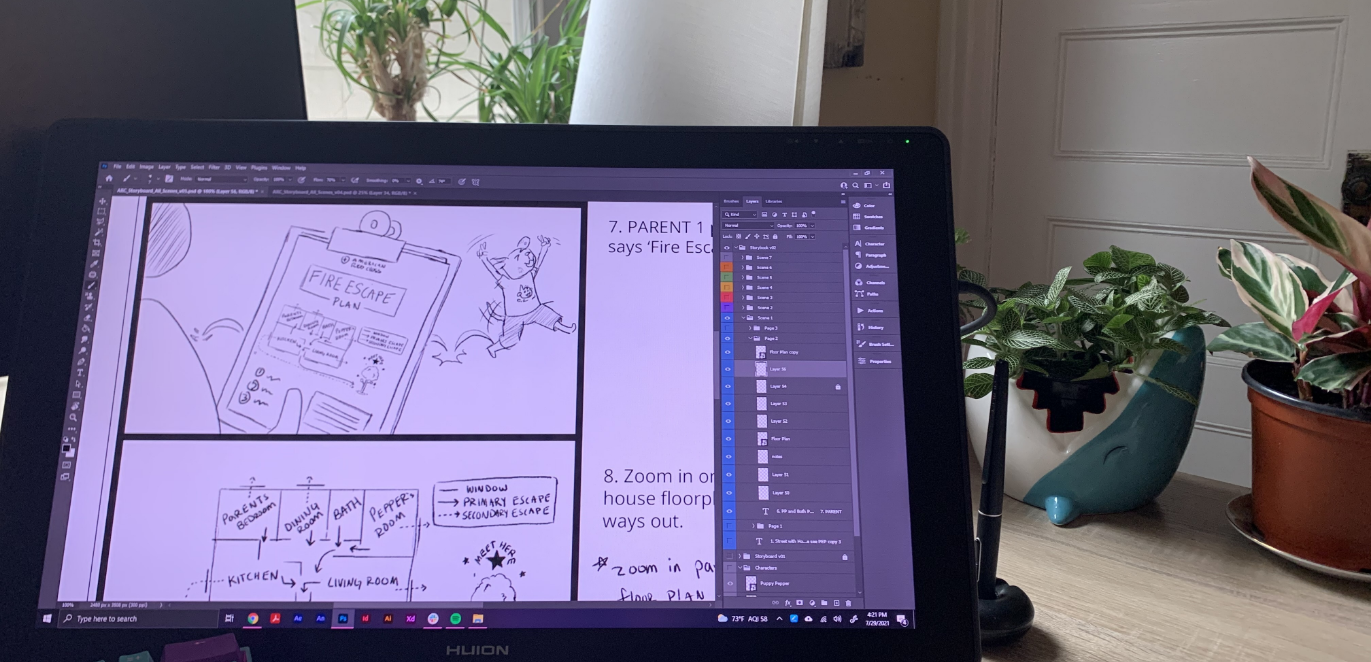 Scene Illustration
The storyboarding helped Sheena expedite approval from the team so she could begin scene illustration. She created a unique title ("Prepare with Pepper and Kai") with the ARC's color scheme. She illustrated and colorized each scene with the project color palette. Sheena also provided on-brand backgrounds that the narrator's live-action narrator, filmed against a green screen, would overlay.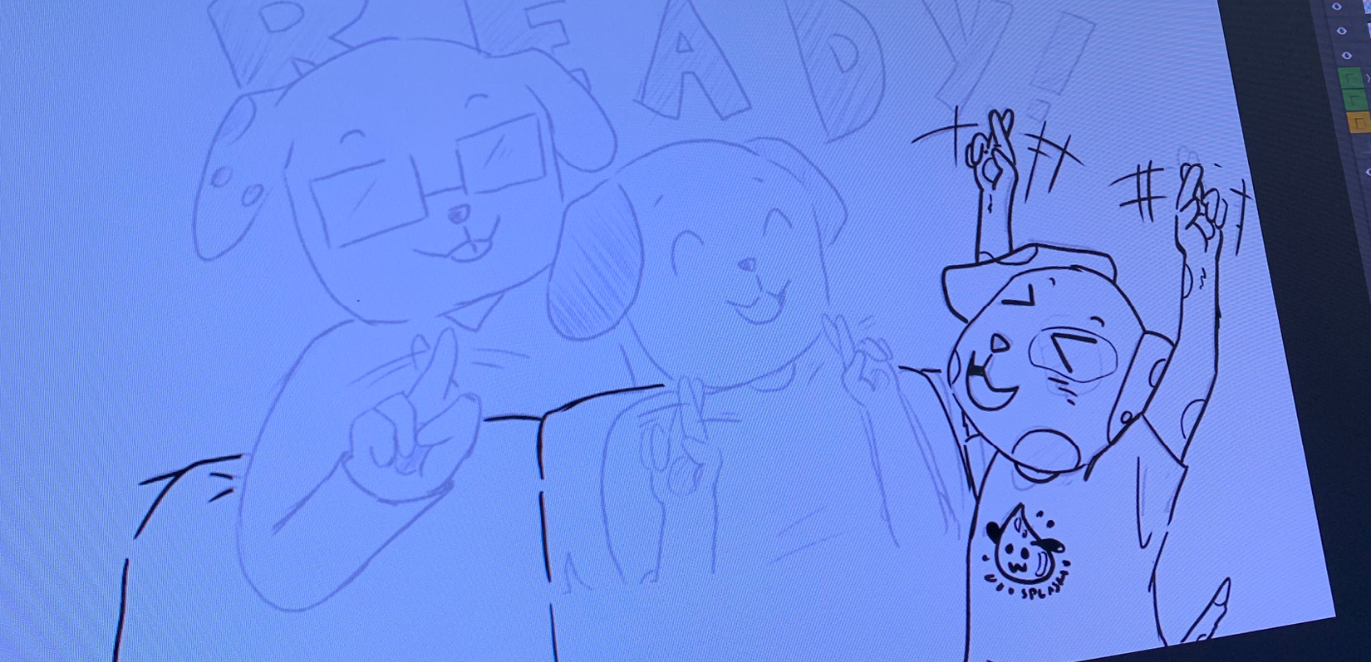 Animation
Sheena inspected the animations for quality as the animator sent over their work scene-by-scene. She made small illustration changes to the characters and their body parts to ensure best fit in terms of eye-catching motion, shapes, and colors. With the animation team, they fine-tuned the animations in line with the video's friendly and fun tone.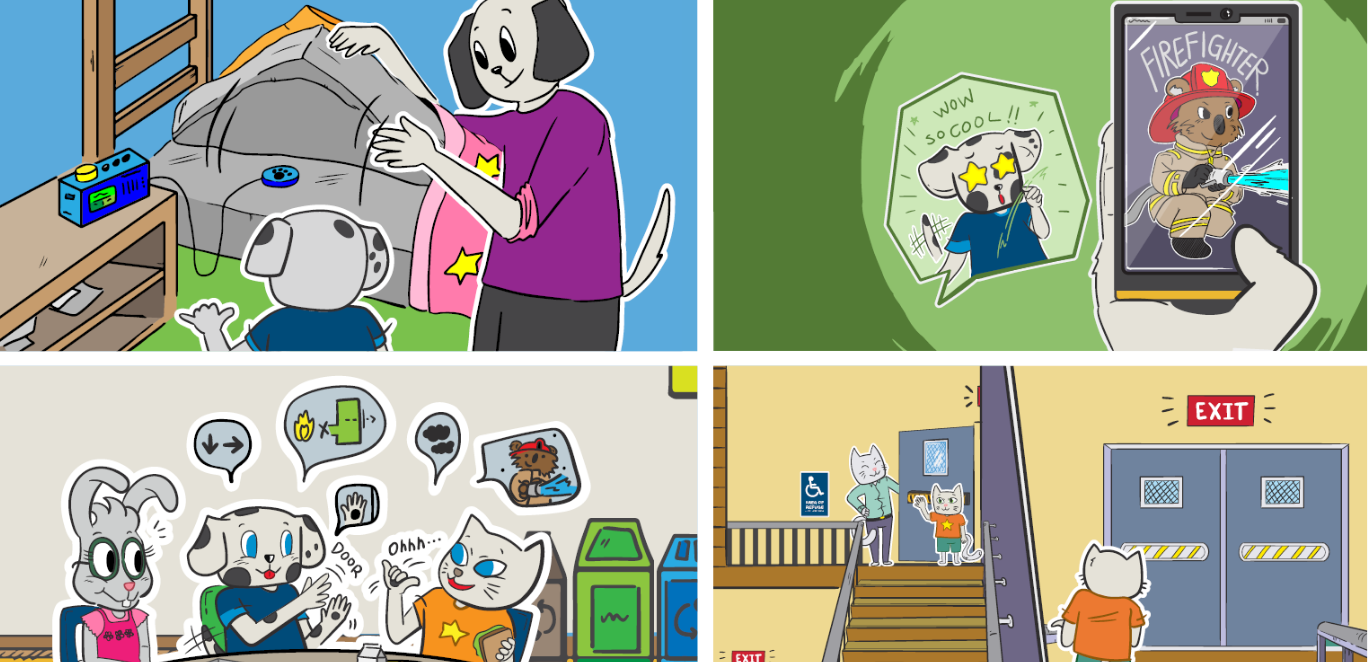 Results and Takeaways
The project ended being longer than expected due to the review and feedback process. Regardless, Sheena had an exciting and rich learning experience with it being her first time directing and creating all visual assets for an illustrated educational video. The educational video and other resources can be viewed on American Red Cross' website here.